Take a seat where the food is good!
Refined regional and Mediterranean classics in the Restaurant Sonne
Here, in the heart of the charming old town, you can indulge in regional and Mediterranean cuisine. Wirtsstube, Schwarzwaldstube, and Sonnenstube await you with their cozy ambience. And when the weather is nice, two terraces entice you to enjoy hours under the open sky: our market square terrace and our new  sunny inner courtyard with Mediterranean charm. Our cuisine is not only appreciated by our hotel guests but also savored by residents of the area. Here, the culinary sun rises with every dish ... whether at lunch or a cozy dinner. 
Take a look at our menu...
... and RESERVE A TABLE at telephone: 07803 933 00.
Our hours
Friday to Tuesday:
11:30am to 3:00pm and 5:30-10:3pm
Closed on Wednesday and Thursday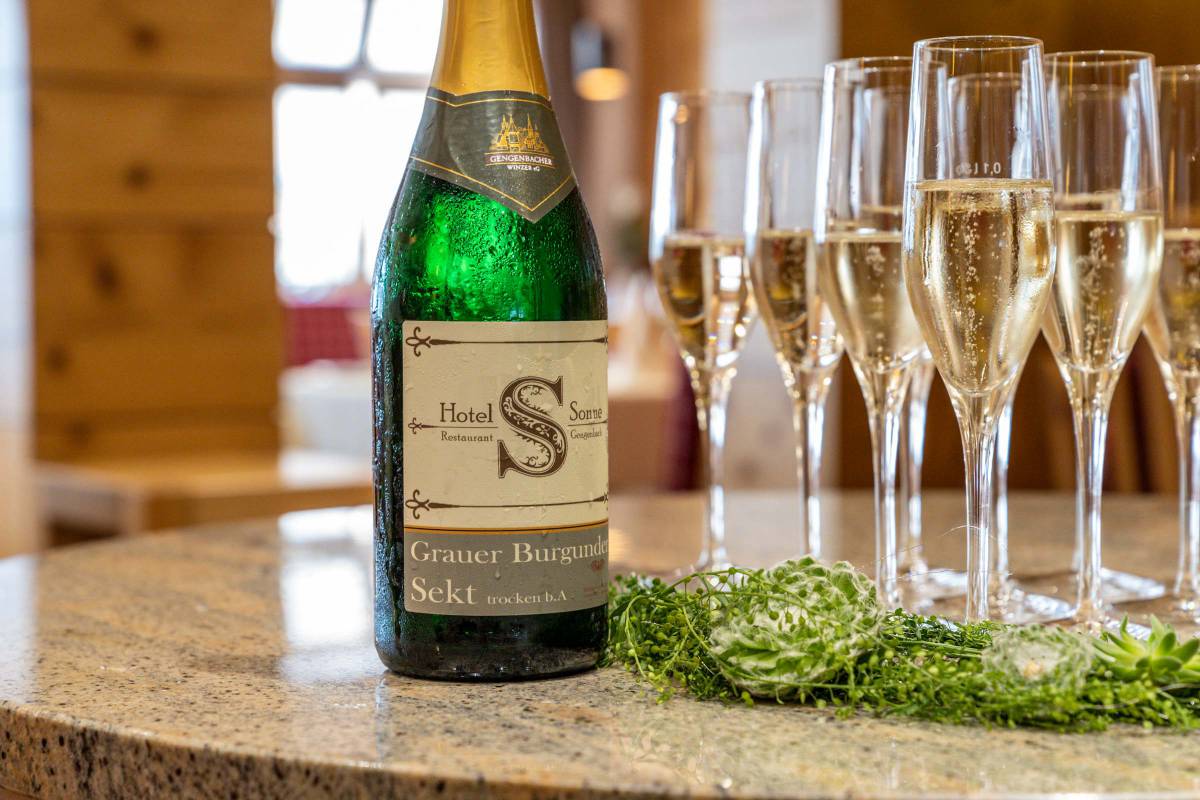 Enjoy seasonal and regional specialties – in the heart of the Old Town
Game from local hunters, trout from the Haigarach valley, potatoes from the Kinzig valley: fresh, regional ingredients are the basis for the cuisine at the Sonne. Enjoy regional classics cooked to perfection and refined with the individual Sonne touch. And the Mediterranean delicacies from the Sonne kitchen bring the taste and flair of the Mediterranean to Gengenbach. Exquisite wines from Gengenbach, the Ortenau, or the Kaiserstuhl accompany your culinary pleasure.
What our guests say:
"Top quality (for example, the calf's liver with puree). Very attentive service. Price-performance ratio is really top, as the prices are moderate in absolute terms, and you still get "what's on offer" here."
"Highly recommended. We will come again!"
"Four of us came to eat here. Regional products and wines. Friendly service and great price-performance ratio."
"Ate tongue with chanterelles, cooked to perfection. The whole house was very clean. They really understand hospitality. Keep it up!"
"We also found it great to be able to order an espresso with a scoop of ice cream or a mini crème brulée for dessert. The whole thing came very nicely arranged and is also reasonably priced at 4.80€-"
"There is no better restaurant in Gengenbach..."
"We've been eating at the Sonne for years, 3-4 times per month. Absolutely professional!!!"